STALLIONS RECOGNISED BY UAHA AND ELIGIBLE TO BREED IN AUSTRALIA




ON FEBRUARY 6, 2017, the American Saddlebred Horse Association of Australasia (ASHAA Inc) had their first AGM, and UAHA has agreed to not allow any Saddlebred stallions that are carriers of JEB to be registered to stand at stud. 



As from January 1, 2014 all American Saddlebred stallions must be JEB tested (results will be published)
All stallions must be nominated to stand at stud each breeding season in order to be eligible to breed, including those supplied via International Frozen Semen.  When sending in the annual Stallion Service Return form, a nomination form must be included. 
If the stallion you are considering breeding to is not listed below, please contact the registry to verify current standing. 
Spotz's Lucky Charm. Imported USA. 
Bay/white Homozygous Pinto from famous lines. 
JEB N/N
Owner D. Ryan, South Australia. 
Phone 0449 173134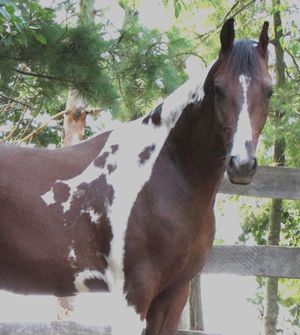 Canyonleigh General Lee
American Saddlebred
JEB N/N 

Don Cristobal Mako (Imp.USA)
(frozen semen only)
Paso Fino
Narrawin Stud
Dereel VIC
0428 647 137
chris@narrawin.com

Dreamers Midnight Commander (Imp USA)
No longer standing at stud.
American Saddlebred
JEB N/N
Deadwood Farm
Morrisons, VIC
03-53415854